The typical cost of renting a car in the U.S. has increased 48% since May 2019, according to the latest data from the Bureau of Labor Statistics (BLS). In other words, a car that cost $100 per day four years ago would now cost $148 per day.
Believe it or not, prices have dropped recently, with year-over-year costs falling 12%, according to BLS data. But that drop has done little to undo the sky-high prices that emerged during the pandemic.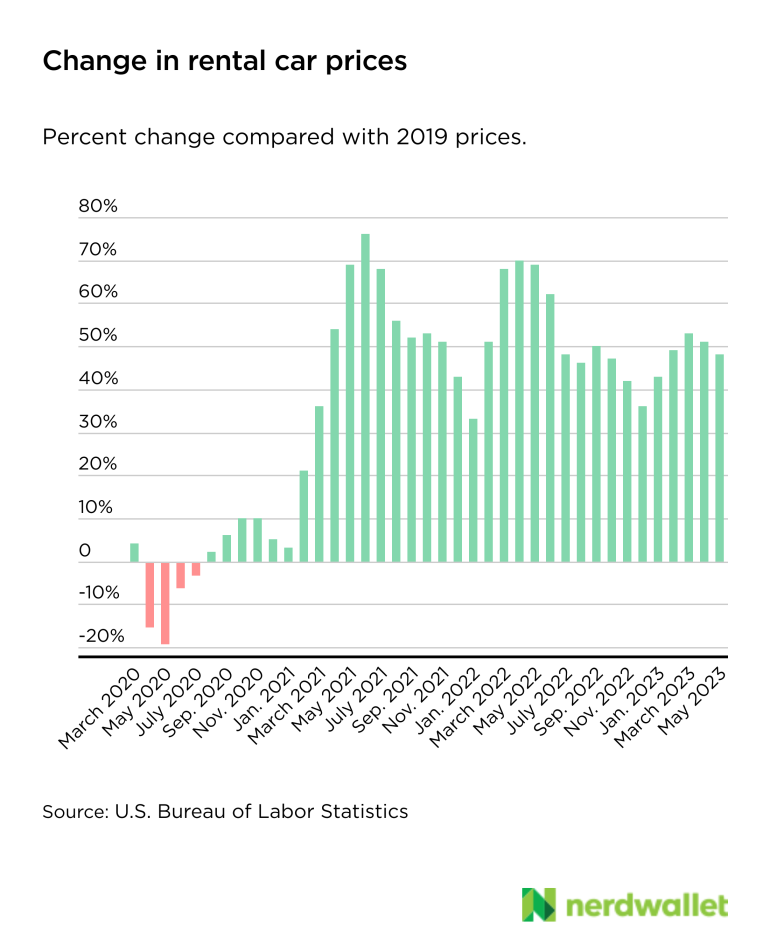 "The traditional car rental industry had to trim down their supply significantly during COVID," says Albert Mangahas, chief data officer at Turo, a car-sharing platform. "This led to a rental car crunch when all the rental car demand came back."
Flights are 5% more expensive than they were in May 2019, and hotels are up 15% over the same period, according to the May 2023 BLS report. These prices are somewhat higher, but nothing like the 48% increase in rental car prices.
Why have these prices remained so stubbornly high?
A supply crunch, and corporate profits
The early stages of the pandemic decimated the rental car industry, as it did for the travel industry more broadly. Unlike airlines and hotels, which can't immediately sell their aircraft and properties during a downturn, rental car companies offloaded a huge portion of their fleet. The Avis Budget Group sold 250,000 vehicles in 2021 alone.
However, as the pandemic waned and demand picked back up, these companies couldn't quickly restore their fleets. Microchip shortages and other supply chain issues throttled supply and drove the cost of cars higher.
"The surge in demand is what created that crunch," Mangahas says. "There was no way to grow the supply fast enough to meet demand. Since then, demand has continued to grow, but the pace is not as radical as what we saw."
Yet that initial spike in prices was in spring 2021 — two full years ago — so why haven't car rental companies bought more vehicles, thereby allowing prices to moderate? The reason might be simple: They're making too much money.
The Avis Budget Group recorded its best year in terms of profit and revenue in 2022, driven by "strong demand and pricing," according to its earnings statement. In other words, the high prices customers have been willing to pay are leading to bumper corporate profits.
"They're not incentivized to bring their prices down because, for the past two years, people have been paying these prices," Mangahas says.
Indeed, a report from the Economic Policy Institute, a nonpartisan think tank, suggests that corporate profits contributed more to overall inflation in 2020 and 2021 than labor or material costs. Higher rental car prices and corporate profits may be part of this trend.
How to navigate higher prices
With no sign that prices will return to anything like their 2019 baseline anytime soon, the onus is on travelers to make the best of a bad rental car situation.
Consider ways to avoid driving altogether. Public transportation, especially in large cities, can significantly reduce the cost of a trip.
Check out alternatives to traditional rental car companies. Turo, Getaround and Audi on demand all offer different pricing and rental models, which could save you money.
Make smart shopping choices. Not all rental car companies have the same prices, and nor do all locations. For example, renting a car at the airport is 26% more expensive than a downtown location, according to a NerdWallet analysis.
Use a search engine that compares several rental car companies to make sure you're getting the best rate, and check the final price (rather than the initial listed price) that includes all taxes, fees and insurance costs. Speaking of insurance, make sure you're not paying for coverage that's already provided by your credit card.
Prices could come down this year as family budgets get stretched thinner and fewer travelers snap up the few available cars. Yet the "prices will come down soon" narrative has been running for two years now. If anything, people are traveling more than ever.
"We've seen a lot of demand this summer," Mangahas says.
More From NerdWallet
The article What's Keeping Rental Car Prices so High? originally appeared on NerdWallet.
The views and opinions expressed herein are the views and opinions of the author and do not necessarily reflect those of Nasdaq, Inc.