After reporting their quarterly results last week investors may be wondering if it's time to buy Adobe (ADBE) or Oracle (ORCL) stock as both companies highlighted their push into generative AI.
With both of these computer software giants beating earnings expectations, let's see if now is indeed a good time to buy.
Adobe Q2 Review
As one of the largest software companies in the world, Adobe stock is standing out after the company was able to beat its fiscal second quarter top and bottom line expectations last Thursday.
Adobe's Q2 earnings of $3.91 per share came in 3% above EPS expectations. More impressive this jumped 16% from the prior year quarter with earnings at $3.35 a share in Q2 2022. Notably, Adobe has now surpassed earnings expectations for 18 consecutive quarters dating back to March of 2019.
Adobe also topped its Q2 sales estimates by 1% at $4.82 billion which was a record for the second quarter and up 10% YoY.


Image Source: Zacks Investment Research
Adobe stated the record quarterly revenue for Q2 was driven by strong demand in its Creative Cloud, Document Cloud, and Experience Cloud. In addition to this, CEO Shantanu Narayan said Adobe's innovation puts the company in position to lead the new era of generative AI given its rich datasets, foundation models, and ubiquitous product interfaces.   
With Adobe stock trading at $485, earnings are now forecasted to jump 13% this year and climb another 13% in FY24 at $17.43 per share.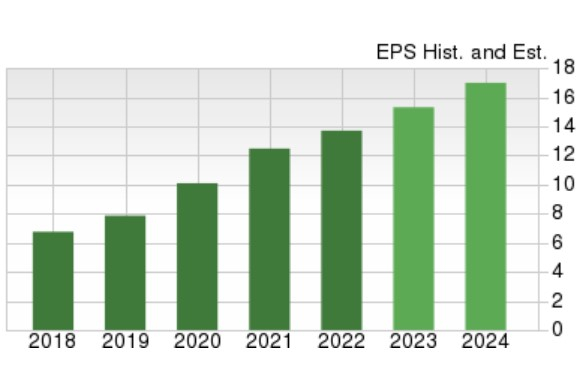 Image Source: Zacks Investment Research
Oracle Q4 Review  
Oracle was able to top its fiscal fourth quarter top and bottom line expectations last Monday with the company seeing a boost from its cloud services as well. Regarding AI developments, Chairman Larry Ellison boasted that Oracle's Gen2 Cloud has quickly become the number one choice for running generative AI workloads.
Oracle's Q4 earnings of $1.67 per share topped estimates by 6% and rose 8% from a year ago. Fourth quarter sales jumped 17% YoY to $13.84 billion and topped expectations by roughly 1%.


Image Source: Zacks Investment Research
Trading at $122 a share, Oracle's annual earnings are expected to rise 7% in its current fiscal 2024 and jump another 11% in FY25 at $6.14 a share.


Image Source: Zacks Investment Research
Bottom Line
At the moment Adobe stock sports a Zacks Rank #2 (Buy) with Oracle landing a Zacks Rank #3 (Hold). The growth of both companies remains attractive but Adobe's bottom-line expansion stands out. With that being said, Oracle's outlook is promising as well although there could be better buying opportunities ahead.
Free Report: Must-See Hydrogen Stocks
Hydrogen fuel cells are already used to provide efficient, ultra-clean energy to buses, ships and even hospitals. This technology is on the verge of a massive breakthrough, one that could make hydrogen a major source of America's power. It could even totally revolutionize the EV industry.
Zacks has released a special report revealing the 4 stocks experts believe will deliver the biggest gains.
Download Cashing In on Cleaner Energy today, absolutely free.
Want the latest recommendations from Zacks Investment Research? Today, you can download 7 Best Stocks for the Next 30 Days. Click to get this free report
Oracle Corporation (ORCL) : Free Stock Analysis Report
Adobe Inc. (ADBE) : Free Stock Analysis Report
To read this article on Zacks.com click here.
The views and opinions expressed herein are the views and opinions of the author and do not necessarily reflect those of Nasdaq, Inc.