Swiss National Bank expected to raise interest rates on Thursday
Fed Chair Powell testifies before Congress Wednesday and Thursday
The Swiss franc is showing little movement on Wednesday, trading at 0.8984 in the North American session.
Will Swiss National Bank deliver a hawkish surprise?
The Swiss National Bank will announce its rate decision on Thursday, and the meeting is live, as the markets have priced a 0.50% hike at 60% and a 0.25% at 40%. The current benchmark rate is 1.50%.
SNB Chair Jordan hasn't missed an opportunity to send out warnings that inflation remains too high. Earlier this month, Jordan stated that inflation "is more persistent than we initially thought" and that with rates at a low 1.5%, it wasn't a good idea to keep rates low and face higher inflation later. Jordan's rhetoric has remained hawkish even though inflation is low in Switzerland and fell to 2.2% in May.
Other central bankers would be happy to switch roles with Jordan, with inflation around 2%, but the SNB is not happy with the inflation picture. Inflation remains above the Bank's 0%-2% target and Jordan appears willing and able to continue hiking in order to curb inflation. The SNB, once known for its negative rates, has been aggressive, raising rates by 225 points in the current tightening cycle. It should be remembered that since the SNB meets only four times a year, the SNB may opt for a 0.50% hike at Thursday's meeting in order to get "a bigger bang for the buck".
Powell testifies before Congress
Fed Chair Powell testifies before Congress on Wednesday and Thursday and lawmakers will likely press him on the Fed's rate policy. The Fed paused at this month's meeting but is expected to raise rates at the July meeting. Powell has expressed confidence that he can guide the economy to a soft landing and avoid a recession and large layoffs, even with further rate hikes. Many lawmakers, however, don't share Powell's optimism and are deeply concerned that the Fed's aggressive tightening could cause significant damage to the US economy.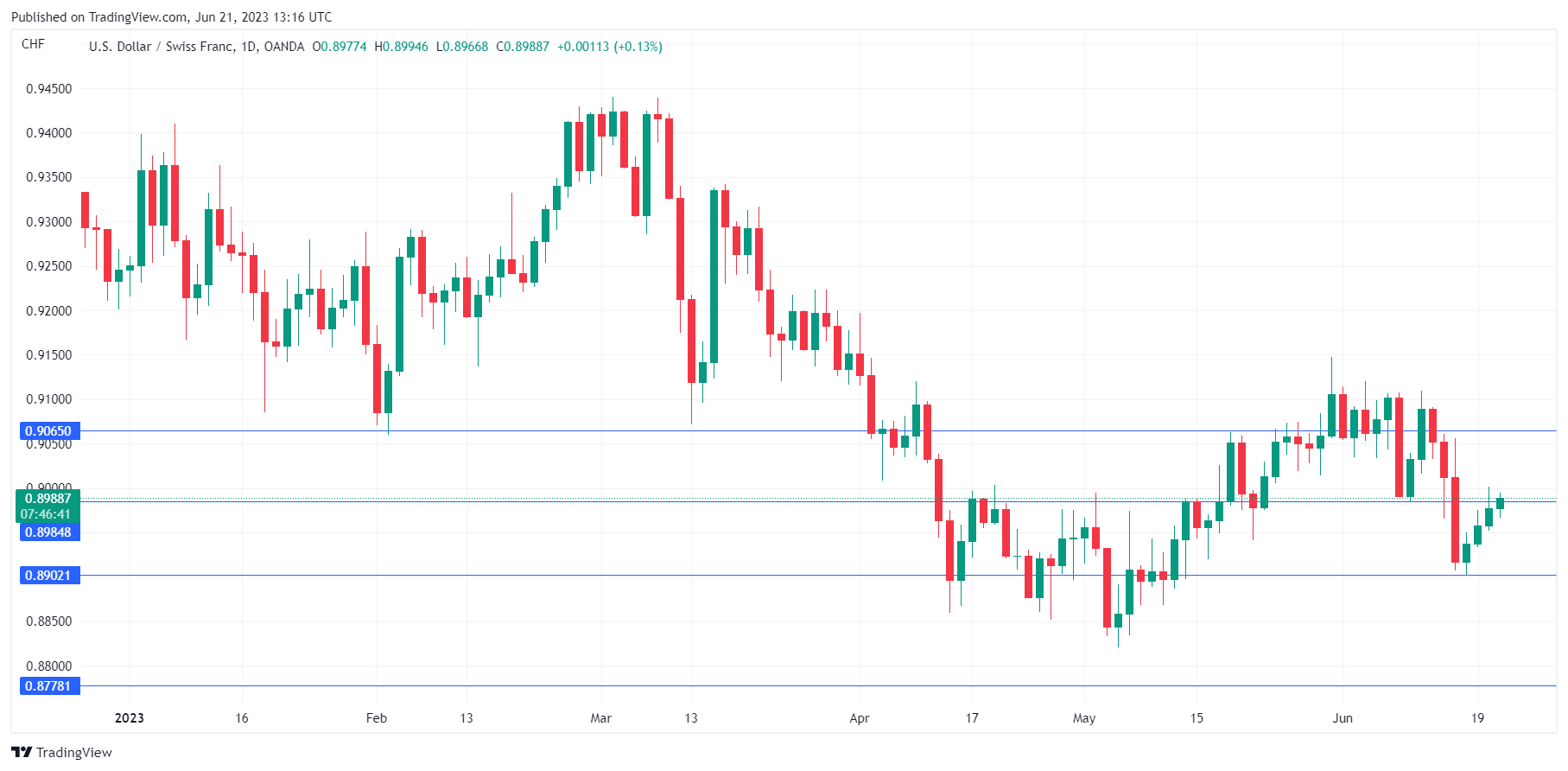 Technical
USD/CHF is testing resistance at 0.8984. Above there is resistance at 0.9065
0.8902 and 0.8777 are providing support