Note: The commentary below was published by Kinesis Money. It also was the opening commentary in my latest issue of the Mining Stock Journal.
In my opinion, the precious metals sector is beginning to "sniff" the prospects of a likely reversal in the Fed's monetary stance, possibly before the end of 2023.
Recently, I presented the argument that, based on the set-up between the bank net short position and the hedge fund net long position in COMEX gold and , the prices of and silver likely were headed lower, with help from the COMEX banks, based on previous cyclical open expansion and contraction patterns.
Well, it seems that this cycle may have been interrupted and that interruption may be coming from the physical gold and silver markets.
Gold and silver to rise in Q3 2023?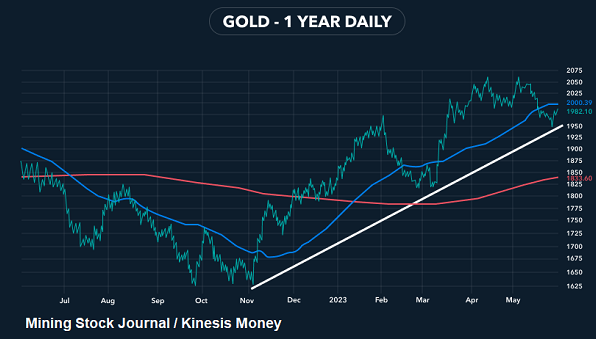 Gold-1 Yr Daily Chart
The chart above is a 1-yr daily of the gold price. The price has bounced off the uptrend line I sketched. The RSI & MACD (not shown) are both extremely oversold and have turned higher.