Many stock splits have occurred in recent years, with companies aiming to increase liquidity within shares and erase barriers to entry for potential investors.
Of course, it's critical to remember that a split does not directly impact a company's financial position or performance.
Several companies – Tesla TSLA, Alphabet GOOGL, and Palo Alto Networks PANW – have all split their shares since the beginning of last year.
It raises a valid question: is buying post-split a good strategy? Let's take a closer look at the performance of each post-split.
Tesla
In June of 2022, the mega-popular EV manufacturer announced a three-for-one stock split; shares began trading on a split-adjusted basis on August 25th, 2022.
Since the split, Tesla shares are down roughly 9%, underperforming the S&P 500 handily. Still, it's no secret that they've rebounded in a big way in 2023, up nearly 120%.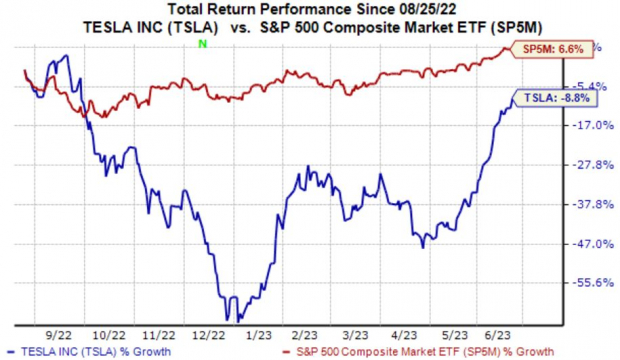 Image Source: Zacks Investment Research
Analysts have taken a bearish stance on the company's earnings outlook, with expectations decreasing across the board in the near term.


Image Source: Zacks Investment Research
Alphabet
The tech titan Alphabet announced a 20-for-1 split in early 2022. Shares began trading on a split-adjusted basis on July 18th, 2022.
Alphabet shares have delivered a strong performance post-split so far, up roughly 13% and modestly lagging behind the S&P 500.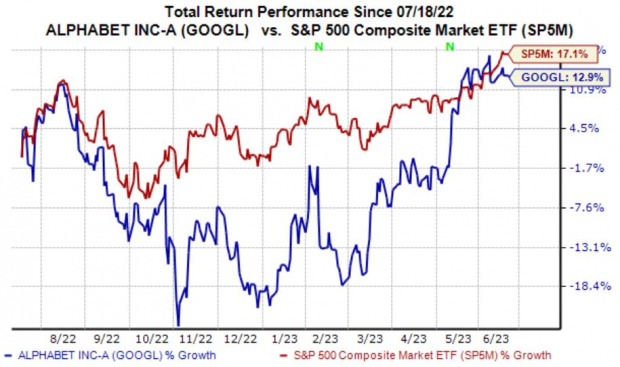 Image Source: Zacks Investment Research
The company is forecasted to grow at a solid pace, with estimates calling for 18% earnings growth on 6% higher revenues in its current fiscal year (FY23). And looking ahead to FY24, earnings and revenue are forecasted to climb an additional 15% and 10%, respectively.
Palo Alto Networks
PANW's three-for-one stock split in mid-September didn't get much attention. The company's shares started trading split-adjusted on September 14th, 2022.
PANW shares have been the best performers out of the bunch post-split, up more than 30% and crushing the S&P 500's 13.4% return in the same period.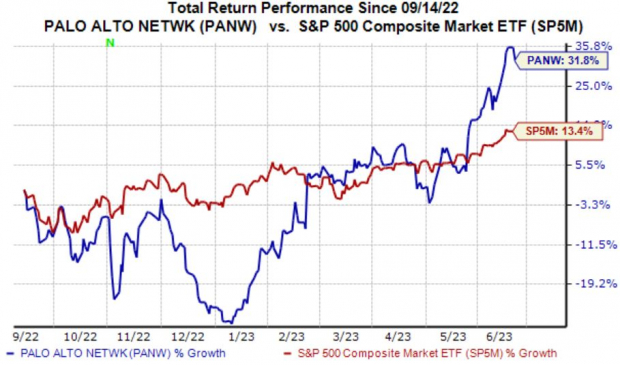 Image Source: Zacks Investment Research
The company has enjoyed positive earnings estimate revisions, helping land it into a favorable Zacks Rank #1 (Strong Buy).


Image Source: Zacks Investment Research
Bottom Line
Stock splits are always an exciting announcement for investors, as companies aim to boost liquidity within shares and knock down barriers to entry.
Still, buying post-split doesn't always result in considerable near-term gains, as we can see from Tesla's TSLA and Alphabet's GOOGL post-split performances. Conversely, Palo Alto Networks PANW shares have found plenty of buyers post-split.
Free Report: Must-See Hydrogen Stocks
Hydrogen fuel cells are already used to provide efficient, ultra-clean energy to buses, ships and even hospitals. This technology is on the verge of a massive breakthrough, one that could make hydrogen a major source of America's power. It could even totally revolutionize the EV industry.
Zacks has released a special report revealing the 4 stocks experts believe will deliver the biggest gains.
Download Cashing In on Cleaner Energy today, absolutely free.
Want the latest recommendations from Zacks Investment Research? Today, you can download 7 Best Stocks for the Next 30 Days. Click to get this free report
Tesla, Inc. (TSLA) : Free Stock Analysis Report
Palo Alto Networks, Inc. (PANW) : Free Stock Analysis Report
Alphabet Inc. (GOOGL) : Free Stock Analysis Report
To read this article on Zacks.com click here.
The views and opinions expressed herein are the views and opinions of the author and do not necessarily reflect those of Nasdaq, Inc.