Nvidia (NVDA) is the worldwide leader in visual computing technologies and the inventor of the graphic processing unit, or GPU. Though the company has been public for decades, it has pulled away from former industry juggernauts such as Intel (INTC) and is dominating the chip space. Before the tech-centric bear market of 2022, Nvidia was enjoying strong growth in its chips for high-performance computing, autonomous vehicle technology, crypto mining, gaming, and more. In 2022, inflation soared to 40-year highs, and investors punished high-valuation growth stocks such as Nvidia, Advanced Micro Devices (AMD), and Shopify (SHOP). However, in early 2023, two signficant factors began driving Nvidia:
A broad tech rebound: After shedding 32.58% in 2022, the Nasdaq 100 ETF (QQQ) bottomed out in October and never looked back (QQQ is up 33% year-to-date). What was behind the move? Inflation petered out at 40-year highs, and the Federal Reserve recently began to ease up on raising interest rates. Remember, a rising tide lifts all ships (especially the strong ones).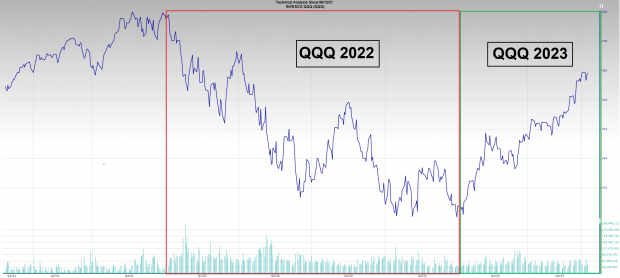 Image Source: Zacks Investment Research
Artificial Intelligence went Mainstream: In early 2023, Open AI unveiled its Microsoft (MSFT) backed chatbot, Chat GPT. Though Artificial Intelligence has been around for years and has been used by well-known companies such as Amazon (AMZN), Chat GPT became the first AI product to gain widespread use. A mere two months after its release, Chat GPT amassed a massive 100 million monthly active user base – making it the fastest-growing consumer app in history. Today, that number is more than 1.8 billion visitors per day. Why is Chat GPT driving NVDA? Nvidia's GPUs are rapidly benefiting from the proliferation of AI because they are necessary for large computers to run generative AI and process large swaths of data.
In May, Nvidia reported first-quarter results that were better than expected. However, the news that sent shares soaring by more than 20% was Nvidia's forward guidance. In one of the largest guides higher, Nvidia management is forecasting revenue of $11 billion for Q2 – a mind-boggling $4 billion above the consensus estimates of $7.1 billion! While many investors believe that Nvidia is overvalued, and the strong fundamentals are priced in, 5 factors suggest that the move may just be getting started, including:
High but realistic expectations: In a recent interview, Nvidia founder and CEO Jensen Huang made a bold statement. Huang touted his company's future AI growth by saying, "We have reinvented computing for the first time since the IBM (IBM) 360 system, 60 years ago. There's a trillion dollars' worth of data center infrastructure installed in the world based on that old method of doing computation. Now, we have accelerated computing and we have the killer app for generative computing: generative AI." Though the rhetoric is intriguing, in my experience, it is best to not blindly trust but rather verify such statements. Huang is not a CEO who makes bold statements without backing them up – he built the nearly 1 trillion-dollar company with more than empty rhetoric. Furthermore, Nvidia has beaten expectations in 17 of the past 20 quarters. In other words, all else being equal, the company is likely to live up to the lofty expectations.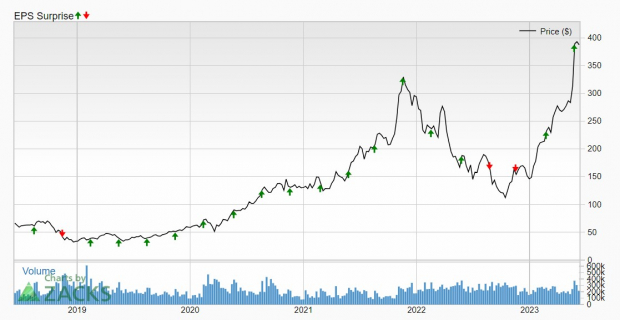 Image Source: Zacks Investment Research
The AI Race is Just Getting Started: The more the world moves to AI, the better it is for Nvidia. Though Chat GPT has the early lead in the AI space, other tech giants are scrambling to make their foray into the industry. For example, Alphabet (GOOGL) released its Chat GPT competitor Bard in March. Chinese search giant Baidu (BIDU) will release its generative AI model in the coming months. Nvidia's relationships with cloud providers such as Amazon and enterprise giants like Microsoft should spur even further growth.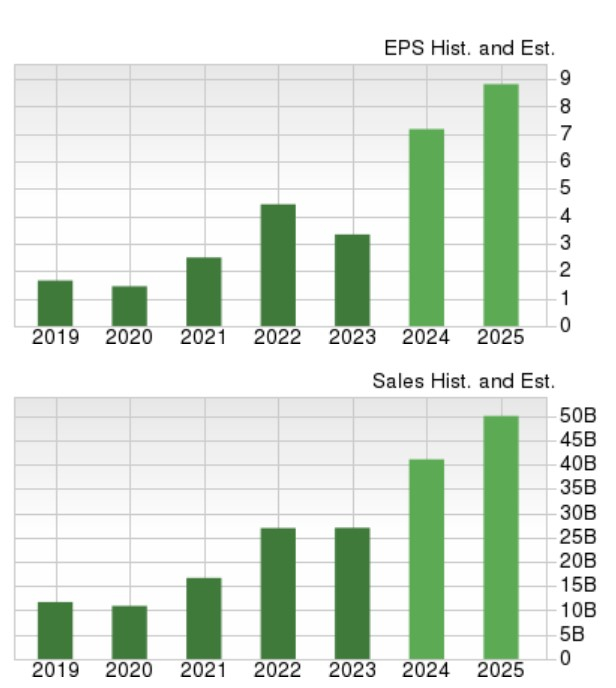 Image Source: Zacks Investment Research
Institutional Sponsorship: Institutional investors (mutual funds, pension funds, etc.) are the most important market participants to monitor. Because of their deep pockets and in-depth research, having smart institutional money in a stock is a confidence booster. Stanley Druckenmiller has one of the most impressive track records ever. Over four decades of investing, the billionaire investor has never had a down year. In recent interviews, Druckenmiller has talked up AI and NVDA's role in the AI revolution. In recent interviews, Druckenmiller said, "AI could be as impactful as the internet" and that he could see himself holding the stock for at least two to three years. Druckenmiller isn't alone – according to the latest filings, Will Danoff's Fidelity Contra Fund (FCNTX) holds more than 10 million shares of NVDA. Fidelity Contra Fund has the second-largest assets under management (AUM). Despite the mutual fund's massive size, it has outperformed the S&P 500 Index over the past 10 years.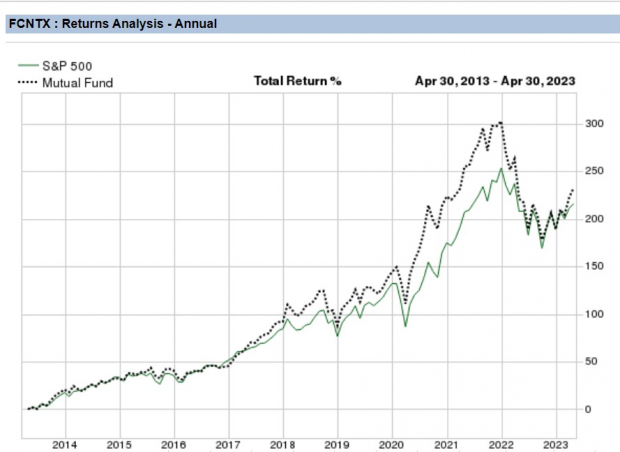 Image Source: Zacks Investment Research
Pictured: FCNTX vs. SPX
Robust Estimates: Don't just take Jensen Huang's word for it. Wall Street analysts tracked by Zacks have finally come around to the stock and have provided some eye-popping estimates for the foreseeable future. NVDA also earns the best possible Zacks Rank #1 (Strong Buy).


Image Source: Zacks Investment Research
Price & Volume Action Provides Clues: On May 25th, NVDA shares gapped up by 25% on volume 241% above the norm. The massive price jump and volume are evidence of institutional accumulation. However, what the stock has done since is even more interesting. The past three weekly closes have been within 1.5% of each other. After a significant move, you would expect investors with large gains to take chips off the table – this is not the case with NVDA. If the stock clears its recent range, expect fireworks to the upside over the next 6-12 months.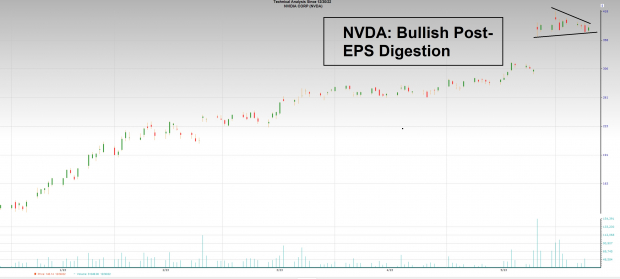 Image Source: Zacks Investment Research
Conclusion
Though Nvidia has gone on a huge run over the past few months, ample evidence suggests that the move may be just getting started. Strong fundamentals are just one piece of the puzzle. Forward expectations, institutional sponsorship, and robust price and volume action are all flashing green signals. 
5 Stocks Set to Double
Each was handpicked by a Zacks expert as the #1 favorite stock to gain +100% or more in 2021. Previous recommendations have soared +143.0%, +175.9%, +498.3% and +673.0%.
Most of the stocks in this report are flying under Wall Street radar, which provides a great opportunity to get in on the ground floor.
Today, See These 5 Potential Home Runs >>
Want the latest recommendations from Zacks Investment Research? Today, you can download 7 Best Stocks for the Next 30 Days. Click to get this free report
Amazon.com, Inc. (AMZN) : Free Stock Analysis Report
Intel Corporation (INTC) : Free Stock Analysis Report
Advanced Micro Devices, Inc. (AMD) : Free Stock Analysis Report
Microsoft Corporation (MSFT) : Free Stock Analysis Report
International Business Machines Corporation (IBM) : Free Stock Analysis Report
NVIDIA Corporation (NVDA) : Free Stock Analysis Report
Baidu, Inc. (BIDU) : Free Stock Analysis Report
Invesco QQQ (QQQ): ETF Research Reports
Alphabet Inc. (GOOGL) : Free Stock Analysis Report
Shopify Inc. (SHOP) : Free Stock Analysis Report
To read this article on Zacks.com click here.
The views and opinions expressed herein are the views and opinions of the author and do not necessarily reflect those of Nasdaq, Inc.