German Business Confidence falls for second straight month
ECB's Lagarde hosts central banking conference in Portugal
is drifting higher on Monday. In the European session, EUR/USD is trading at 1.0917, up 0.20%.
German business confidence slips
Germany once prided itself as being the locomotive of the eurozone, which blazed the way with a strong economy. The country is still by far the largest economy in the bloc, but hard times in the global economy haven't spared Germany.
The week started with disappointing news as German Ifo Business Climate dropped for a second straight month, falling from 91.7 to 88.5 in June. A weak global economy, exacerbated by China's wobbly recovery and the ECB's aggressive tightening appear to be weighing on business sentiment.
Last week's German PMI data indicated slower activity in manufacturing and services. Manufacturing has been mired in a recession and fell from 43.5 to 41.0 points. Services is showing growth, but slipped from 54.7 to 54.1 points. The 50 line separates contraction from expansion.
The ECB has been playing catch-up with inflation but has made progress as higher rates have dampened economic activity in the eurozone. The ECB has hinted strongly that it will raise rates in July and there is a strong possibility of another hike in September or October.
ECB President Christine Lagarde will be in the spotlight as host of the ECB forum on Central Banking in Sintra, Portugal this week. The markets will be monitoring her remarks and looking for insights into future rate policy, which could result in stronger movement from the euro.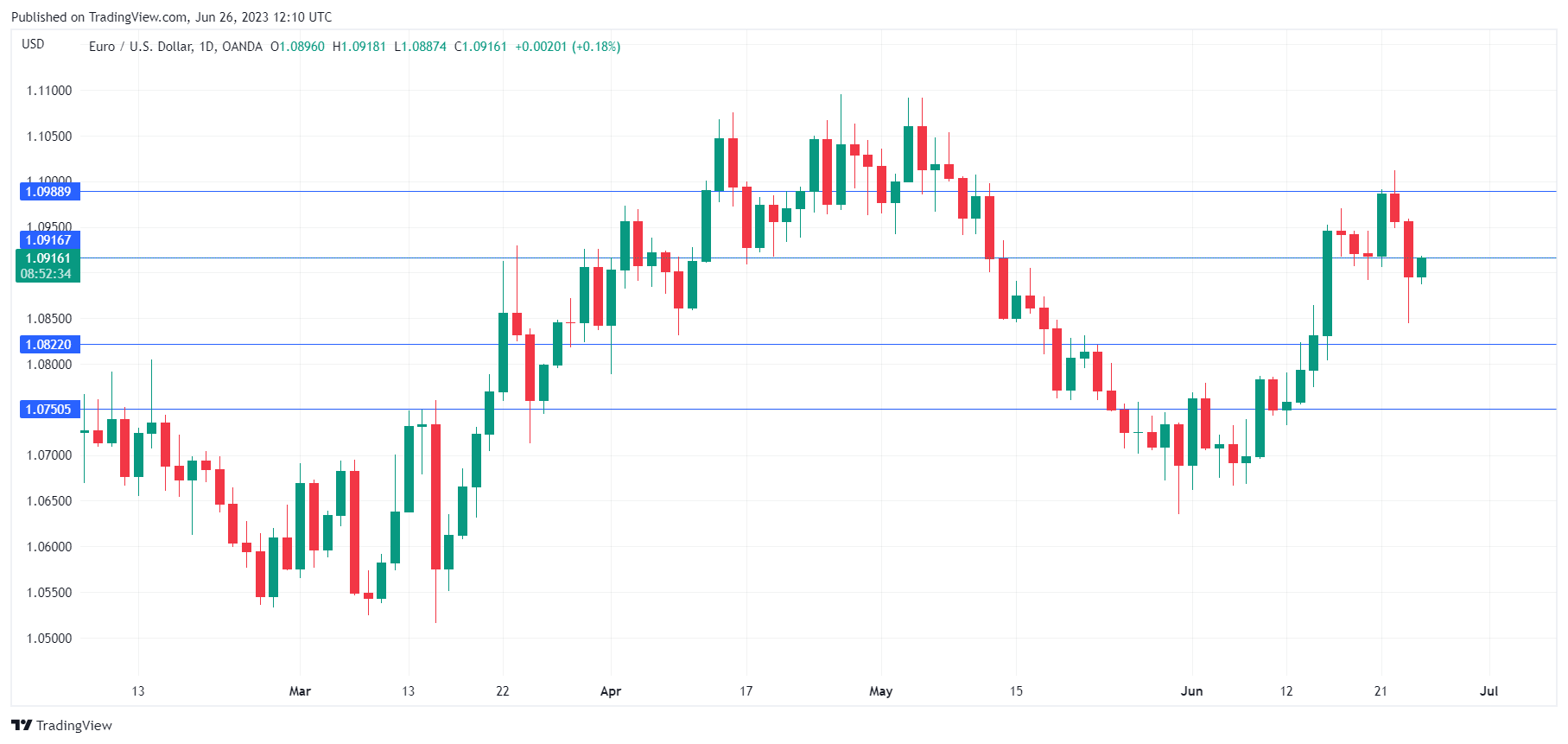 EUR/USD Technical
EUR/USD is testing resistance at 1.0916. Next, there is resistance at 1.0988
1.0822 and 1.0780 are providing support