Lagarde signals ECB rate hike in July
Germany releases inflation report later on Thursday
Eurozone inflation report follows on Friday
is unchanged on Thursday and is trading at 1.0912 in the European session,
German CPI
Germany releases the June inflation report later today. Inflation in the eurozone's largest economy fell to 6.1% in May, down sharply from 7.2% in April. Much of the decline, however, was driven by lower energy prices. Inflation is expected to head higher, with a consensus of 6.3%. If CPI surprises to the downside, the euro could get a boost.
Lagarde signals rate hike in July
Investors were hoping to gain some insights this week from ECB President Lagarde, who hosted the ECB Bank Forum in Sintra. There really wasn't anything new in her remarks, which may have been disappointing to some. One could make the argument that Lagarde is being consistent in her message to the markets and used the Sintra meeting to reiterate the ECB's intent to raise rates at the July 27th meeting, unless there is an unexpected drop in inflation, in particular the core rate.
Lagarde stated on Wednesday that the central bank is not considering a pause in July as things currently stand. At the same time, Lagarde has some wiggle room, as she has said each rate decision will be data-dependent. The ECB has an entire month before the next meeting, and if core inflation slides or the eurozone economy takes a turn for the worse, the ECB could pause, arguing the conditions were appropriate for holding rates steady.
Lagarde & Co. will get a look at eurozone inflation data on Friday. Headline inflation is expected to fall to 5.6% in June, down from 6.1% in May. Core CPI is projected to rise from 5.3% to 5.5%.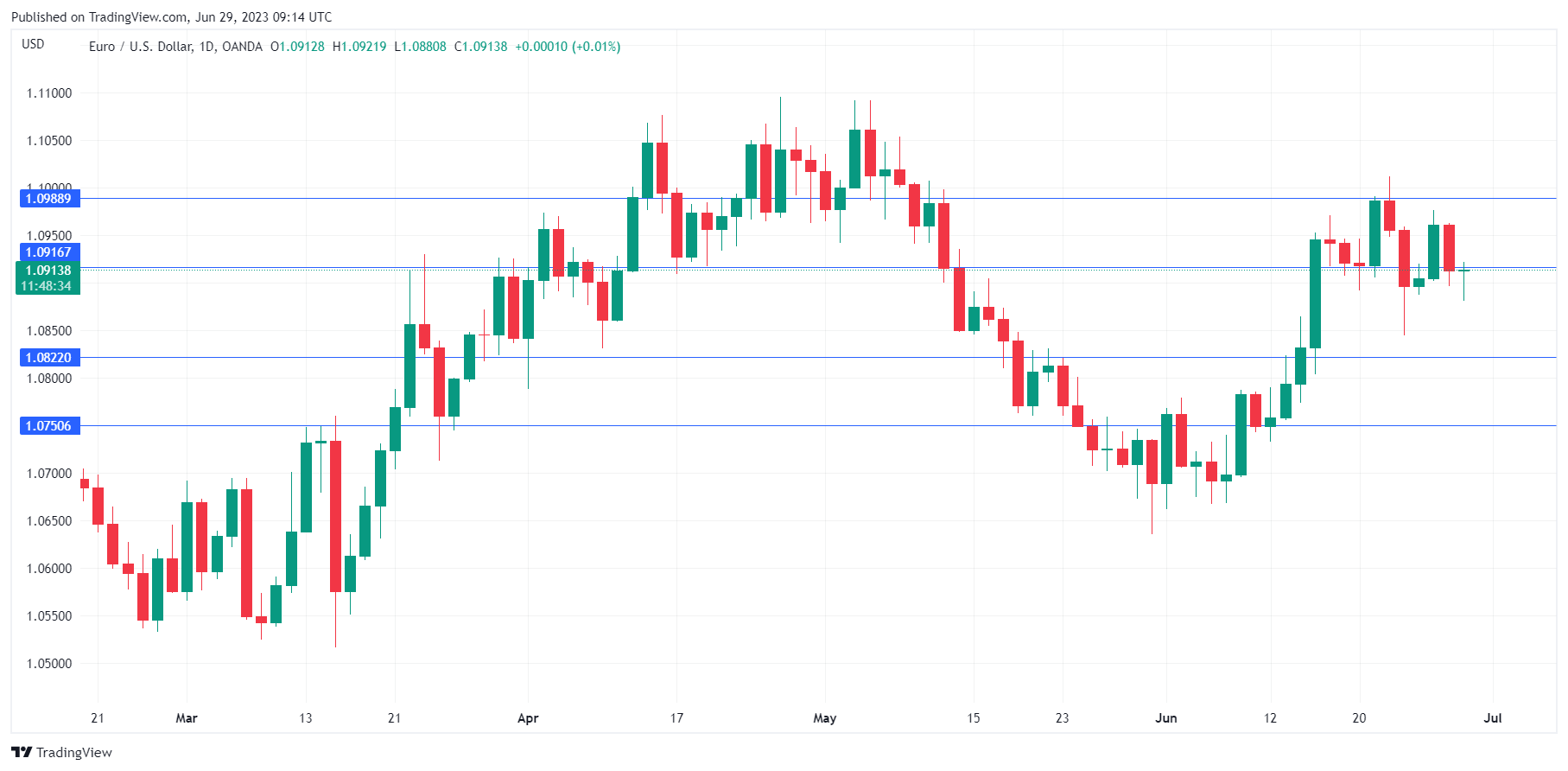 EUR/USD Technical
EUR/USD is putting pressure on resistance at 1.0916. This is followed by 1.0988
1.0822 and 1.0750 are providing support