Company Overview
Zacks Rank #5 (Strong Sell) Icahn Enterprises (IEP) is a diversified holding company founded and controlled by billionaire Carl Icahn. Icahn Enterprises invests in investment management, metals, real estate, and home fashion companies through its subsidiaries and affiliates. Icahn Enterprises is known for its involvement in corporate governance matters and its efforts to management boards and decisions in the companies it invests in. As the company's chairman, Carl Icahn plays a key role in setting its investment strategies and overseeing its operations.
Short-Seller Report: Hit Piece or Red Flag?
Last month, Hindenburg Research, a U.S. short-focusedinvestment researchfirm, unveiled a short report thesis on Icahn Enterprises. Shares of IEP swooned immediately following the report, dropping 55% for May on massive volume turnover.


Image Source: Zacks Investment Research
In the short report, Hindenburg Research made bold accusations against IEP, claiming the company is inflating its illiquid private holdings. According to Hindenburg's research:
·       IEP assets trade at a 218% premium to its last reported Net Asset Value (NAV)
·       IEP's premium to NAV is higher than every closed-end fund and double the next highest.
·       IEP uses Carl Icahn's legendary status and a hefty dividend to attract investors. Meanwhile, institutional investors have little to no exposure in the company.
What is Hindenburg's Track Record?
Because short-focused research shops often release "hit pieces" to manipulate stocks for short-term gains, investors need to be wary of them. However, Hindenburg Research is an exception to this rule. In late 2020, Hindenburg accused EV-maker Nikola (NKLA) of fraud. Since then, the stock has dropped from $50 to $1.


Image Source: Zacks Investment Research
Hindenburg also raised a red flag on the SPAC Clover Health (CLOV). Like NKLA, CLOV dove and hasn't looked back since. Most recently, Hindenburg pointed out accounting inconsistencies in Adani – India's largest company. Since then, certain banks have stopped accepting Adani loans as collateral.
By the Numbers
Whether you agree with Hindenburg's assessment or not, IEP's fundamentals are unattractive at this juncture. Since 2018, IEP has posted negative EPS. Compared to its industry, IEP has lower historical EPS growth, projected sales growth, net margin, return on equity, and soaring debt.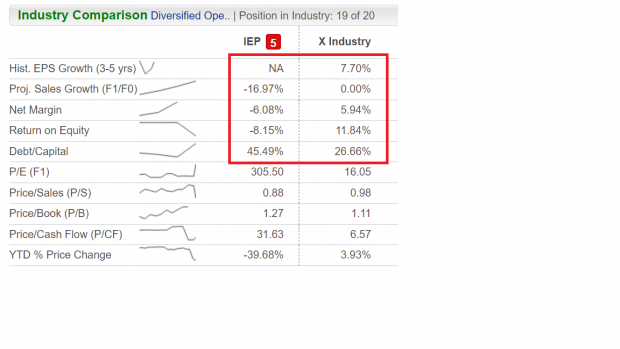 Image Source: Zacks Investment Research
Conclusion
With equities in a robust bull market, investors have ample opportunities outside Icahn Enterprises. The inflated NAV, poor fundamentals, and negative headlines should be red flags for prospective investors.
7 Best Stocks for the Next 30 Days
Just released: Experts distill 7 elite stocks from the current list of 220 Zacks Rank #1 Strong Buys. They deem these tickers "Most Likely for Early Price Pops."
Since 1988, the full list has beaten the market more than 2X over with an average gain of +24.3% per year. So be sure to give these hand-picked 7 your immediate attention. 
Want the latest recommendations from Zacks Investment Research? Today, you can download 7 Best Stocks for the Next 30 Days. Click to get this free report
Icahn Enterprises L.P. (IEP) : Free Stock Analysis Report
Nikola Corporation (NKLA) : Free Stock Analysis Report
Clover Health Investments, Corp. (CLOV) : Free Stock Analysis Report
To read this article on Zacks.com click here.
The views and opinions expressed herein are the views and opinions of the author and do not necessarily reflect those of Nasdaq, Inc.